BEGINNING OF MY JOURNEY
On New Year's Eve 2010 I visited my GP as I had found a lump in my left breast. I was sure it was hormonal, I didn't think breast cancer would affect me as my Mother had been tested for the BRCA 2 gene mutation and was found to not be a carrier of the gene mutation unlike other member's of her family including her Late Father (lived until his early 90's and died of an aortic aneurysm), Late Brother (died of pancreatic cancer) and Sister (diagnosed with ovarian cancer 6 years ago and now being treated for breast cancer). I, like my sisters, thought I was "safe". I put off having the mammogram and ultrasound my GP referred me for and instead contacted BreastScreen QLD to see if they could bring forward my bi-annual mammogram which was due in April.
On 21st February I had my mammogram and was called back for a biopsy, I was still thinking the lump would be found to be benign. However 2 days later it was confirmed as malignant and I felt my world collapsing around me. I saw my Surgeon 2 days later and we discussed the options of lumpectomy and mastectomy and I went home after the appointment to discuss with my family my options and make a decision.
DIAGNOSIS OF SECONDARIES
On the way home from my biopsy it suddenly occurred to me that an ache I had had since around November in my left scapular area was the same side as my breast, in fact it was just behind it. I mentioned this ache to three doctors I saw that week of my diagnosis, one of them thought it was probably muscular and not too worry about it, another felt along my spine for tenderness but assured me I would be scanned and finally the Surgeon referred me for an x-ray and blood tests. The next day, a Saturday, I went early for my blood test and x-ray and not long after I returned home my Surgeon phoned me and asked if he could see me. I said that I wanted my husband to be with me and that I didn't want to bring the children with us. The Surgeon said he would come to me at home, I knew this was serious, having a house call from a Surgeon on a Saturday morning. My Surgeon told me I had a pathological fracture of one of my ribs and that it was due to secondary bone cancer. It was an incredible shock to hear it was incurable. On the Monday I spent the day at the hospital having a CT and a bone imaging scan, that night I saw my Oncologist for the first time, he checked the scans and said, "lesion on left scapular, legion on lower lumbar spine, lungs clear, liver clear, this is better than we expected". From that moment I began to feel hope again.
My breast cancer is oestrogen hormone receptor positive and HER 2 negative. I have been on Tamoxifen since 8 March and the tumour had already shrunk by about one-third. I have had radiotherapy to the 2 bone lesions and have occasional pain in those areas when I have overdone it a bit. I have made changes to my diet and lifestyle; I am now on a vegan diet under the supervision of my GP and a Dietician. I have increased my daily serves of vegetables to 7 and am walking most days of the week. I am feeling well and hopeful for the future. I feel very fortunate that my secondaries were picked up at the time of my initial diagnosis of early breast cancer.
ABOUT ME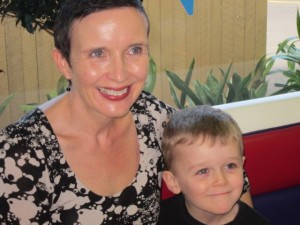 I am 43 years old, the eldest of 8 children and a wife and mother to 2 boys. I grew up in a large, close, loving family in Queanbeyan NSW. After finishing school in Canberra I took a gap year and went to Paris where I worked as an au pair. I then returned to Australia and studied at Sydney University for an Arts degree majoring in French and Japanese. After graduation I successfully applied for a place on the Japan Exchange and Teaching Program (JET) and then spent 3 years as an assistant English teacher working for a prefectural board of education and visiting senior secondary schools. At the end of my contract, I and 2 British male friends cycled through South East Asia for 6 months. Starting from southern Japan, through China, Vietnam, Thailand and Malaysia, ending at the Singapore Post Office. We clocked up more than 6000 kms and had many adventures along the way. I then returned to Sydney to work for a Japanese Government agency. I met my husband through an old Uni friend, fell in love and married. In 2001 we had our first baby, William. I returned to work part-time at the Heart Foundation when William was 14 months old. In late 2004 we moved from Sydney to Toowoomba seeking a better lifestyle for our family. In May 2005 William was diagnosed with Autism. In 2006 our second son Jack was born.
I love living in Toowoomba. I have made some wonderful friends here, who are being incredibly supportive during this challenging time of my life. Along with emotional support, they have organised a roster to prepare and deliver meals to our family. I am so fortunate.
ABOUT MY FAMILY
I am married to Graham, a former Architectural Technician and Interior Designer. Graham is taking a break from work at the moment to be home with me.
We have 2 sons, William, 10 years old and Jack who is 5 years old. William has high functioning Autism, his main challenges are social interaction, receptive language skills, anxiety and self-harming behaviour. William attends a special school and is very settled and happy at his school. Jack started Prep this year and is thriving, he has made new friends and loves learning.
My Mum and Dad and brothers and sisters all live far away, in Queanbeyan, Sydney and Singapore. We are all very close and keep in touch via the phone and email. I also have 2 Aunts who have both been treated for breast cancer and they are soul mates for me during this journey.
I have a beautiful family and so much to live for.