"I am not really a 'group person' and shy away from cancer support groups in general but I think this group is very special as we are all fighting the same or a similar battle and need all the help/support available."
Helen
Advanced Breast Cancer Group
The Advanced Breast Cancer Group is a unique service that offers women all over Queensland an opportunity to meet and talk with other women. Those who join usually say that they would like to know how other women manage – manage the illness, the treatment, the decisions, and many other questions about living with the disease. This group provides the time and the space to do this. It also provides an opportunity to make strong and lasting friendships which nourish and support members of the group through what is often described as a roller-coaster ride
About this Group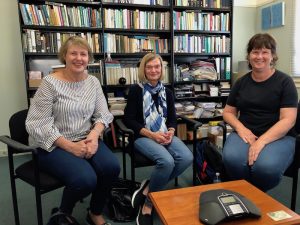 The Advanced Breast Cancer Group provides an opportunity for women to talk freely with other women with advanced breast cancer, to share their experience of diagnosis and treatment, to explore fears about having a life threatening illness and to find ways of living with cancer.
There is no set agenda, so women are free to talk about anything they like – how they are going, treatment and side effects, relationships with family and friends, sexual and financial matters, and so on.
It is a supportive-expressive group and is modelled on the work of Dr David Spiegel (Stanford University, California, USA), author of Living Beyond Limits: New help and hope for facing life threatening illness and Group therapy for Cancer Patients (co authored with Catherine Classen PhD).
"This group has been invaluable to me. I stand in awe of the courage, dignity, humour, & loving concern of the women I have met. The collective knowledge of the group is extraordinary. I have witnessed women treading paths that no one would ever choose to venture on. It is a continual source of inspiration to me & nurtures me well when I hit the low spots."
Pam.
---