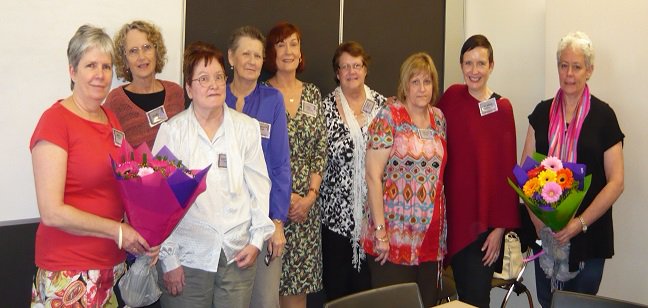 By BRIGHID MAXWELL
My name is Brighid Maxwell and I am 45 years old. My husband Graham and I live in Toowoomba, Queensland with our two boys, William (13 years) and Jack (8 years).
It was late December 2010. I found what I thought was just a blocked milk duct in my breast. I saw my GP but sat on the referral for a scan she gave me until the boys went back to school.
In February, I went for a mammogram. The scan showed the 'blocked duct' was a lump. A biopsy confirmed the lump was malignant. I was 42 and had early breast cancer. I was in shock.
I mentioned to my doctors an ache I had had off and on in my left shoulder blade, a pulled muscle I thought. However, an x-ray showed I had a pathological fracture.
It was a Saturday morning and my surgeon came to my house. He is such a caring man, but even he could not soften the news. He told me I had Stage 4 'advanced' breast cancer – it had spread to my bones. There was no cure. I would always need treatment.
I felt numb. "I just can't die, I can't leave Will and Jack," I kept thinking in disbelief.
Cancer took over my life. I attended a string of appointments and scans. I went in and out of hospitals. There was no time to think. I listened and I did what I was told.
Toowoomba is a beautiful community. I have no family here, but I made close friends through playgroup and preschool. They rallied. Meals were delivered, my boys were picked up from school and friends regularly phoned and visited me.
However, I felt so alone. Cancer put me on the outer. Death was shadowing me. I saw others get on with their lives. I recall having morning tea with friends who were talking about our children just starting prep. I felt like I was physically present but elsewhere, like I didn't belong anymore, I just felt so different.
I needed to feel empathy with other women in a similar situation to me.
Two months after diagnosis, I was at home alone. Fear overwhelmed me. I couldn't leave Graham and my beautiful boys. My son William has autism and I kept thinking, "Graham won't be able to do it on his own! I couldn't either."
I phoned the Cancer Council in tears, desperate to speak to someone who understood. I knew of a support group for women with early breast cancer but I didn't think I'd feel comfortable attending, I represented what these women might become one day and I had no chance of celebrating surviving this illness. I was given the number of a woman who had secondary breast cancer and she referred me to the Advanced Breast Cancer Support Group.
I was so relieved the first time I phoned the Support Group. I felt connected again. I shared my story and heard the stories of other women. I felt joy when one woman said she had been living with secondary breast cancer for over 10 years. I could hope again! I might just get to see Will and Jack grow into men.
The support group is vital to my treatment.
My amazing medical team helps me physically fight cancer.
My Medical Oncologist, Surgeon, Radiation Oncologist, GP and Oncology Nurses have kept my cancer stable. I have had a bilateral mastectomy, radiation, removal of my ovaries and a hysterectomy. I am on a hormone tablet that blocks oestrogen from fuelling my cancer, and each month have bone strengthening treatment and blood tests. I have regular scans too.
The Advanced Breast Cancer Support Group helps me live with cancer.
It gives women the psychosocial support we desperately need. It also takes the pressure off the hospitals. We talk about our incurable illness, treatments and how to manage the side effects. We learn how to hope, how to laugh and how to help our families cope. And we talk about death – a very difficult topic.
Two psychotherapists facilitate the group. Every Tuesday at 1pm, women from all over Queensland phone in. Twice a year we meet in Brisbane with our partners and other support persons to attend workshops with health professionals and for creative expression.
The Support Group gives me the energy to live a full life and to keep the dark thoughts at bay. But they do creep in, especially when waiting for results or when a new ache starts. The group is vital for me to share my fears candidly.
Sadly Brighid died in May 2017.