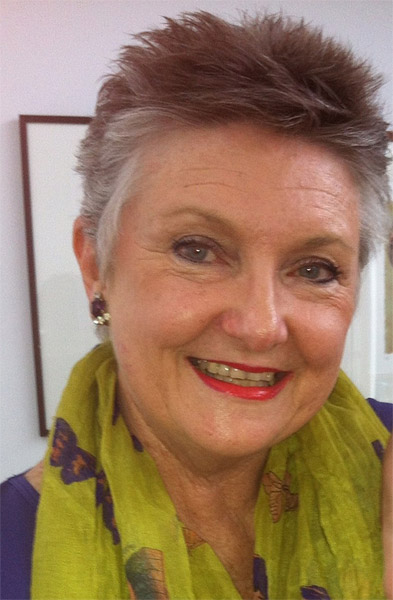 11 November 1949 – 05 June 2015
BEGINNING OF MY JOURNEY
Forgive me as some of the early story is now a bit fuzzy as it all started eleven years ago, so I guess I have been rather blessed to have the extra time. Rob my husband of 43 years and I have had this time to see both our beautiful daughters Amanda and Bronwyn be happily married and make us very proud grandparents of Will (4) and Charlie (9 months), as well as Isabella (8) Sebastian (4 nearly 5) and Mae (19 months).
I went for my second ever mammogram at Breast Screen Qld early in the week, we were heading up the coast to meet up with two dear friends and their husbands to celebrate our Scorpio birthdays when I received a phone call on the way up just to say they had noticed a little calcification, nothing to worry about but wanted me to come back for some follow up tests – first thing Monday – so didn't make for a relaxed weekend. Anyhow, after going through from top to bottom of the possible tests and making it to the very last one of a fine needle biopsy, being called back two days later, I was told I had breast cancer. The doctor there was marvellous, rang my GP who saw me very soon thereafter and subsequently managed to acquire an appointment with the lovely Dr Chris Pyke. Booked in straight away for a lumpectomy. All very surreal as most of you will relate to. I opted not to have chemo as I have always been very chemically reactive, but had 6 weeks of daily radiation – follow up mammograms, and after five years thought I was home and hosed and it had just been a little 'blip' on the landscape of life.
I worked all the way through radiation etc (I had my own business as an Interior Design Consultant, Colour Consultant and worked with property developers, aged care facilities as well as private home owners) and loved it!! I regularly went to weekly yoga classes with ladies of a certain age, none of us in the 'spring chicken' category, I am now 63. About two and a half years ago, one of my girls and her children had been up, I had been using my left arm to carry things which I'm aware of not using too much although I had only had very minor episodes of lymphodema.
After she went home, I had noticed the fluid pooling in my hand. Some girls at yoga who are medically trained were pushing me to go have it checked. I finally made an appointment with my GP who thought as I did that after 9 years it was most unlikely to be anything sinister, but just as a precaution, had me book time with the lovely Dr Pyke. Well, that started this whole roller coaster as he did not discount it at all. He ordered CT scan, bone scan – went on holidays but rang me the same day to say all wasn't looking so good, and wanted me to go and have an MRI to confirm some of the findings – large spread throughout the bone structure and nodes to be removed in the axillla (armpit to the rest of us) – and he booked me in first morning back from his holiday after having a pin marker in the XRay department.
Removed several nasty lymph nodes, which I in my innocence thought was it – little did I realise that was to be just the beginning. I went home and was readmitted a few days later very ill with Golden Staph – got over that to follow up meeting the charming oncologist Dr John Macintosh, whose treatment I had refused 9 years beforehand, to be told I needed weekly chemo for 20 weeks as well as a four weekly Zometa infusion.
Wow! How did this happen, Oh well, onward and upward, he knows what he's talking about and we'll manage – meanwhile my husband and daughters are in shock. This was just another business meeting and I'd get through it no problem. Thought I'd like to try oral chemo I had read about, sick as – no good, onto another one Abraxane, finished that onto Gemsar – sick as after three infusions – then the lovely Dr himself had to resign from practice as he was unwell. (I think I was admitted at least three various times during all this with infection etc.) Finished with this – We went to France with dear friends who live there half the year – returned – I was referred onto Dr Paul Mainwaring with the advice he was the 'guru' of Breast Cancer. I have been in his care since.
After the twenty weeks, my marker reduced and he said "go out and enjoy yourselves, come every 4 weeks for the Zometa" – so we did once I felt better. I stopped seeing clients, we travelled visiting our families in Sydney and Melbourne, took holidays to Daylesford, floated around the Whitsundays and so on. My husband went to his nephew's wedding last October in the USA, and I went to visit Bronwyn in Melbourne and became very unwell, she took me to Epworth Emergency who dosed me up with pain killers and said to go back and see my oncologist. Started with a PET scan, and the darned stuff was shining like a beacon all through my skeletal structure, more chemo commenced – now on Navelbine plus the Zometa. This has been stretched out to 6 weekly as it is impacting on my already challenged kidneys. Had a portacath fitted – got infected – back in the ward, In the end, it's been great.
My scan a couple of weeks ago, shows that the cancer in the bones has spread even further throughout my entire skeletal structure so 'the beat goes on'!
I must add however, that when I saw Dr Mac and we were supposed to be having Christmas in Melbourne (2.3 years ago) he advised us to have the family up here as he didn't think I'd be here for the following Christmas – and fortunately, I am – and have had two extra special Christmases with our beautiful family and friends
I just had another CT scan and bone scan and the disease has spread even further in my spinal system but on we go 3 weeks on, one week off. He maintains an optimistic view at all times – I just started Fentanyl patches for the pain which I have to supplement but I guess it's a matter of tweaking the dose until it's right. We just spent a lovely weekend out on a friend's boat at Horseshoe Bay, Peel Island in Moreton Bay and managed well, however getting in and out of the dingy from the duckboard was rather a challenge!
I keep optimistic by setting forward goals, the next is a dear friend's daughter's wedding on Easter Sunday, holiday in a friend's house up at Noosa – a long weekend in Melbourne later in April, meeting some of you on April 27 and so on – baby steps.
Being a new member of this group has made me realise I am not alone in my feelings of riding this rather dynamic roller coaster – this has been really good for me!
Regards,
Wendy M