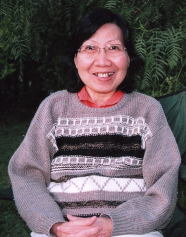 16 May 1956 – 19 April 2009
BEGINNING OF MY JOURNEY
Early 2007 diagnosed with breast cancer in my left breast. I had a mastectomy and chemotherapy.
DIAGNOSIS OF SECONDARIES
Less than a year later the secondary cancer appeared on my lung and liver. It is an aggressive type, and triple negative to hormones. I was treated with radiation and chemotherapy, and have experienced nausea, fatigue and constipation as the side effects. I was told that I only had a few months or weeks to live, but thank God I have passed Christmas, which was my short term goal, and now am setting more goals, both short and long term, and am looking forward to achieving them.
ABOUT MY FAMILY
I have a good husband and a 15 year old son, who both take care of me and look after me very well.