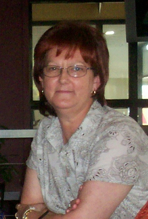 – 11 January 2008
BEGINNING OF JOURNEY
I was first diagnosed with breast cancer in October 1998. Just after turning 40. I was living in Mt Isa at the time. I was flown to Brisbane to have my left breast removed (that was the day after Melbourne cup). I work at the TAB so it is a time I don't forget easily. I came back to Rockhampton where I had been living before going to Mt Isa, to have 6 months of chemo. In May 1999 I started 5 years of tamoxifin.
DIAGNOSIS OF SECONDARIES
I never had any problems in that 5 years, but a month after stopping the tamoxifin I got a lump on my sternum and had to go to Brisbane for radiation for a week.
I had 18 months with no more problems. I went for my scans and it was found that the cancer was back again but had spread to my Liver and other bones in my body. I have just finished 2, 3 weekly circles of chemo. The last scan showed that the liver cancer is still spreading but the cancer is stable for now. I am having more chemo from early December with the 3 weekly circles again but a stronger chemo then before. I don't know the name of the chemo.
ABOUT ME
I don't have a partner anymore as he could not handle things with the cancer and how it changed the way I look now as I haven't had reconstruction surgery due to the cost of it. So I decided that if someone that I had been with for 7 years didn't want me then I am better off on my own.
ABOUT MY FAMILY
I have 2 children and they live with me. My son just turned 24 and my daughter is 18. My daughter is my rock. She is with me for every appointment and if I want her to come to treatments she is there.
The photo I have included was taking at my surprise 48th birthday the kids gave me. I had been having a bad couple of weeks and it lifted me up so much I could go on with my treatment.