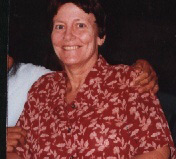 3 April 1954 – 5 October 2008
BEGINNING OF MY JOURNEY
I found a lump under my arm and had the Psychiatric Registrar have a look at it and he said he didn't think it was anything. Maybe an infected lymph node from a mild infection I may have. About 3 weeks later I realised that around 2/3 of my right breast was hard. I didn't do anything about it initially. I didn't want to make a fool of myself. When I did mention it, I had an ultrasound, mammogram and biopsy the next day. I knew then it was not good after asking the nurse how it looked. Around a week later on I had a radical (R) mastectomy with the removal of 21 nodes all involved. This really knocked me. My husband came up from Mackay after hearing the results. All the crew at KRU were fantastic and in hindsight I was lucky I was up there because it gave me access to a tremendous oncology service at Townsville Hospital. Also psychiatric and psychological help 24 hours a day.
SECONDARY DIAGNOSIS
Following this came chemo, then another course of different chemo and radium to my back for the terrific pain I had in my back. A bone scan had shown extensive lesions (tumours) throughout my skeleton and I was told I have limited time to live.
ABOUT ME
I was in Kirwan Rehabilitation Unit in Townsville. This was for treatment of severe treatment resistant depression, which I had had for the past 11 years. They were terrific there and helped me immensely.
ABOUT MY FAMILY
My husband's name is Trevor.