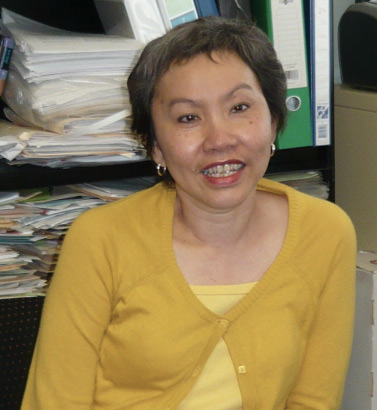 12 October 1955 –  4 February 2011
BEGINNING OF MY JOURNEY
On 8th Dec 2006, I was diagnosed with primary breast cancer and metastatic breast cancer with mets in the bone at the same time. It all began with a bad back pain followed by pain radiating to my left leg.
My GP sent me for a CT scan of the spine, thinking that I might have some disc problems. To our horror, the scan showed a few hot spots and a fracture to the head of the femur. My last mammogram was exactly 2 years prior. From there, my life took a complete turn. (a life changing experience that I did not asked for). Up-to-date treatments : open reduction & internal fixation NOF, radiation to NOF, 6 cycles chemotherapy, mastectomy and 15 radium treatments on the mastected breast.
ABOUT ME
Was born in Malaysia with chinese parentage. Have been in Brisbane for the past 27 years. Live a normal family life with a good hubby and 2 beautiful daughters. When the girls were young, devoted all my time to being a mother and wife. As the girls grew up and left home to study in Melbourne, I worked as a administration officer in a Endoscopy Day Centre. Enjoyed every minute of working life after being a stay-home mum for 20 years. What a pity that I have to stop work now! I am a outdoor person with a love for movies, shopping, walking, travelling and enjoying FOOD.
I am a Christian and have been involved in teaching Sunday school at our church and teaching RE in a state school. During this crisis, I thank my God for being my strength and rock.
Beside Him, the love and support of my hubby and daughters gave me great comfort during these 10 months of "horribulies"(if there is such a word).
I am coming to terms with this 'chronic illness' and have started reclaiming back my life that was taken away from me so suddenly. Even though my physical body has slowed me down, I am glad my mind hasn't. At times it can be frustrating that I can't do the things I thought I could do but with determination and positive attitude, I hope to be there ONE DAY. Every day is a new day and a bonus.