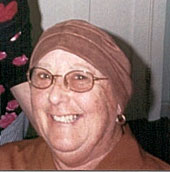 13 April 1945 – 9 October 2007
BEGINNING OF JOURNEY
My Cancer was found by a routine 2 yearly mammogram, immediately followed by the discovery of metastatic bone secondaries. In January 2003, an enormous tumor which they said must have been there at least two years ago but wasn't picked up last time. All the tests and x-rays showed it had spread extensively to most of the bones in my body and they said I probably only had a short time to live. I was sent to Townsville hospital immediately for radiation, which took care of the back pain and then started on chemo. But, as a result of the first chemo I was given, I have developed chronic heart failure (1 percent chance of this happening?? but if I was a 6 cylinder car before I am now running on 1 cylinder – that was how the Doc explained it too) which leaves me totally unable to walk at all (too much effort & energy – there is nothing wrong with my legs) . So these days I travel everywhere by wheelchair.
ABOUT ME
Married 38 ½ years to Digger
Son: Brad 35 years
Daughter: Steph 31 Years
Son: Adrian 26 years
I have been self-employed for 35 years owning many different businesses: Fuel Roadhouse (24/7), Fuel Depot, Café, Drive-in Theatre, Dress Boutique, Fish & Chip Shop, Motel (24/7)Everything we owned we built up & thrived on the challenge and success. We seemed to be invincible. We are both A Grade tennis players and spent a lot of time each week playing tennis. We have traveled extensively overseas such as Europe, UK, USA, Canada, Thailand, Bali, NZ, New Guinea and much of Australia. Can't get enough of travel. When we got the bad news of the cancer in Mackay we sold the Motel immediately and moved to the Gold Coast to enjoy a bit of luxury living while I still can and also to be nearer to our Daughter (who is a great comfort to me).
My lifestyle now consists of being totally inactive and being visited by all friends & relatives. All interests & hobbies have stopped & my aspiration is for my heart medication to start working (which it hasn't yet) so my quality of life will improve. I am very conscious of the wonderful support I have had from my family. I am blessed.