Overview
Women with advanced (metastatic) breast cancer have special needs and challenges to face. Each year in Australia approximately 13,000 women are diagnosed with breast cancer and about 3000 women die of this disease. In Queensland, it is estimated that about 3000 women are diagnosed with secondary breast cancer and about 500 die.The exact number of women who are diagnosed or are living with secondary breast cancer is not known as Cancer Registries do not capture this information in every State. An unknown number of women are diagnosed with or develop advanced breast cancer each year. Diagnosis of advanced breast cancer generally comes as a shock and compels women to further review their priorities in life.
The Advanced Breast Cancer Group is a unique service that offers women all over Queensland an opportunity to meet and talk with other women. Those who join usually say that they would like to know how other women manage – manage the illness, the treatment, the decisions, and many other questions about living with the disease. This group provides the time and the space to do this. It also provides an opportunity to make strong and lasting friendships which nourish and support members of the group through what is often described as a roller-coaster ride.
 "I'm not really a 'group person' and shy away from cancer support groups in general, but I think this group is very special as we are all fighting the same or a similar battle and need all the help/support available."
It is a safe place where people can talk about their worries without the fear of burdening others. They can talk together, cry, laugh and have fun together, feel understood, and less invisible than they may otherwise feel.
More thoughts from the women about the group can be found here.
To read what the Facilitators say about the group click here.
How To Join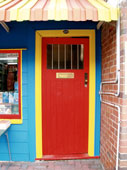 Women find out about our service in a variety of ways, including this website, seeing posters or flyers in their oncology departments, word of mouth, as well as more directly from someone in their treating team. Once a women rings to make an enquiry, we offer an interview with her, and if possible, her partner, to talk about the group and to answer any questions. By the end of this time it is usually clear whether or not this group is something which would benefit her, and a decision is made about joining.
What We Offer
We offer a weekly, professionally-led group which runs for 1 ¼ hours. It is a space in which women are free to talk about and discuss anything they like.
We also have regular Workshops when we fund the women in the group, together with their partners and families and important friends, to come to Brisbane for a workshop which includes Q&A sessions with health professionals. It is a time when all the members of the group, and those who are important to them, from Brisbane and other centres, as well as those from rural and remote Queensland, can meet one another face to face.
In Addition…
The women who come to the group are asked to contribute their story and photo, and with their permission these are in the story and photos page, so others who are interested can read about them and their experience.
All the women who have been in the group are remembered on our In Memory page.

We have had a song composed for our group, which then lead on to the Memory Box Project with Bernard Houston. The Memory Boxes were generously made for us by the Bribie Island Woodies, and are beautiful keepsakes for the women who participated.
We also have links to external sites that might be of interest to younger children.
The service both funds and helps to manage a national online forum which provides an Australian meeting place for people with breast cancer and for those affected by the breast cancer. Visit the forum at www.bcaus.org.au
A brief history of the group can be found here. A short excerpt from the DVD "You are Not Alone" can be seen here.
The service is sponsored by the Women's Psychotherapy Service, a network of women therapists working in private practice in Brisbane. Since 2002 we have been funded by Queensland Health.