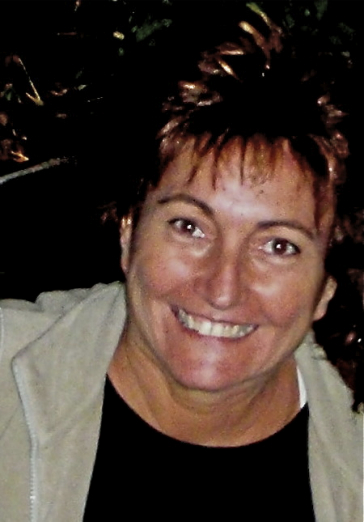 29 August 1960 – 21 May 2010
BEGINNING OF MY JOURNEY
My journey begun April 2007, at the age of 46 when I was diagnosed with early breast cancer – Her2+ hormone negative. I subsequently had a lumpectomy followed by 3 months of the AC chemotherapy treatment and then 2 months of radiation, which was to be followed by another 3 months of chemotherapy the taxol/herceptin combination.
DIAGNOSIS OF SECONDARIES
Near the end of my radiation treatment in October 2007, I began to feel pain in my right hip area and a subsequent scan showed I had a 4cm tumour growing on my right iliac crest. Previous scans in June and August 2007 had come back clear so it was a surprise to all off us especially the doctors that I could develop such a large tumour so quickly and that it hadn't been picked up in earlier scans. Anyway I had 5 shots of radiation to the area and all was well. I started my taxol and herceptin treatment near the end of November 2007 and come January 2008 I started to have a lot of pain in my spine and pelvic region. I had a bone scan in January 2008 and it showed that I had developed several new metastases throughout my pelvic and spine region. My oncologist said that there was no way this could be cancer because according to him cancer doesn't grow that fast so I went to another diagnostic imaging place and had a CT scan done on to check the earlier bone scan. The CT scan showed I had nearly 17 new growths throughout my pelvic and spine region. My oncologist then decided to stop my herceptin and taxol treatment saying that this was usual practice when someone had a progression and there was another drug available to try. At that stage I had had 3 doses of herceptin and 10 of taxol.
One of the breastcare nurses referred me to an oncologist who told me about the benefits of a new drug called Tykerb but said I would need to pay for it and that it cost $4000 per month but that I needed to pay for 4 months of it upfront before they would agree to give it to me, meaning I needed $16,000 to start treatment. I told her I needed to think about it and she told me not to take too long because she said the way my cancer was progressing I would be lucky to have more then a few months left. So I ended up going to a pharmacy a week later with $16,000 in cash [half of which a cousin who had just come into a huge inheritance had given me]. I felt like I was doing an illicit drug deal. Anyway when I went to give the pharmacist the money she told me the company Glaxo Smith Kline [GSK] had decided to give me the medication for nothing, I couldn't believe it and burst into tears. So I never actually paid for this drug because until it was made freely available on the PBS in May 2008, GSK provided it to me free of charge.
After taking the Tykerb [which is 5 big tablets per day] for 2 months, I had an MRI in March 2008 and it came back clear apart from one lesion on my 4th lumbar disc and another on my left iliac crest. The rest had completely gone. Since then a new growth on my left iliac crest discovered in October was radiated in December and another new growth discovered in the ASIS [where the thigh bone fits into the hip socket] is to be radiated in May. Hopefully that will be the end of it for awhile.
ABOUT ME
Well thats my cancer story. As for me I am a New Zealander who has lived off and on in Australia for a total of 15 years now. I returned in May 2003 to Sydney, where I have spent most of that 15 years. I am single and have no children and have four brothers and one sister. I moved to Melbourne to live in March 2008 as at the time I did not think I had long to live and wanted to be close to my sister and her family in Mornington. I recently moved to Cairns as Melbourne was just too cold for me. I have a brother and sister in law here in Cairns and am really loving the consistently warm days.
In March 2008 I went on a 2 month holiday around Europe. I received an early pay out of my superannuation and returned to Europe for another 3 months. I also went to Egypt and Israel during that holiday. I had a great time overseas but the second holiday took alot out of me and energy wise it took me sometime to regain my health after I returned. However the trip was well worth it. I quite often sit back now and think of all the places I saw last year and all the good times I had. I also have alot of great stories to tell people about the trips and have really enjoyed sharing this experience with various family members and friends and acquaintances.