"Blue Skies" was composed especially for the group by local composer Bernard Houston as part of his 52 songs project. Bernard was inspired by the courage of women involved in the group. The song was used in the soundtrack for our new DVD "Walking Beside Her: a Partner's Journey with Secondary Breast Cancer" and captures the sentiments of many women.
Lyrics
Look up, nothing but blue skies stretched out
Arms behind my head and though
When I started on this journey I was raw
And the hand that I was dealt seemed so unfair
Now I'm content with these – these sweetest days
Unknown territory lies ahead
I retrace steps that led me
To this place where nothing's certain but now I've
Achieved a certain state of grace I find
I'm content with these – these sweetest
Days they fly by time seems short and
I try catch them like a child
Chasing dandelion seeds on a Summer day
Blue skies
Reach out, nothing but air in my way
And though my life seems so short
There are still some things that I intend to do
And what once seemed so important seems so small
Now I'm content with these – these sweetest
Days they sparkle with small moments
Treasures kept inside my mind
Precious photographs of these sweetest days
Blue skies.
Bernard Houston
[youtube id="_KeRvA5z-HY" width="700″ height="360″ autoplay="" api_params=""]
BERNARD HOUSTON (COMPOSER)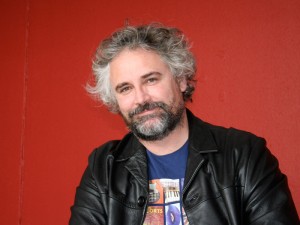 www.bernardcomposer.com
facebook: Bernard Composer
Bernard Houston is a composer with a wide palette of compositional and arranging techniques. He began song writing with folk/pop group Mythica whose album East of the Sun – West of the Moon received three Queensland 1997 "Sunny Awards" including best album and best song. His first staged cabaret The Cappuccino Cowgirl sparked an interest in how music can convey a story. Through the Judith Wright Centre of Contemporary Arts "Emerge Project" he composed and worked as musical director for numerous theatre and cabaret performances including, Batavia, Getting Betterer All the Time, The Carbon Footprint Cabaret and Symphony in a Flat. Other theatrical highlights include Flicking the Flint with an ambient electronic score that in the words of the Courier Mail "underscored the dual atmospheres of nature's splendours and menace". His own work Voyage to Prester John was shorted listed for the 2010 National New Theatre Music Development Program.
Over the past five years Bernard has composed music for 18 short films. Many of these have screened at national and international festivals resulting in a personal listing in the International Movie Data Base. Two films, The Foal and Deliberation screened in 16 national and international film festivals including the 2010 Cannes Film Festival; the 10th Whistler Film Festival and In the Bin Short Film Festival for which The Foal won the best short film award. Other notable film credits include Embrace (screened 41st Edition of the Bolzano Short Film Festival & The Seventh Experimental International Film Festival – Sydney) and Widow's Cure (screened Parabox 11th Montclair International Film Festival & Interrobang Film Festival.
In 2010 Bernard set himself the personal challenge of writing, arranging, recording and distributing via Facebook a new song each week for a year. The 52 Songs project attracted a strong online following and featured songs were broadcast in Brisbane and Canberra on ABC AM. In addition the song Tender Reeds was highly commended by the Queensland New Film Makers Awards as part of the sound track of Dunkirk and Blue skies has been adopted by the Advanced Breast Cancer Group in Queensland to promote their cause.