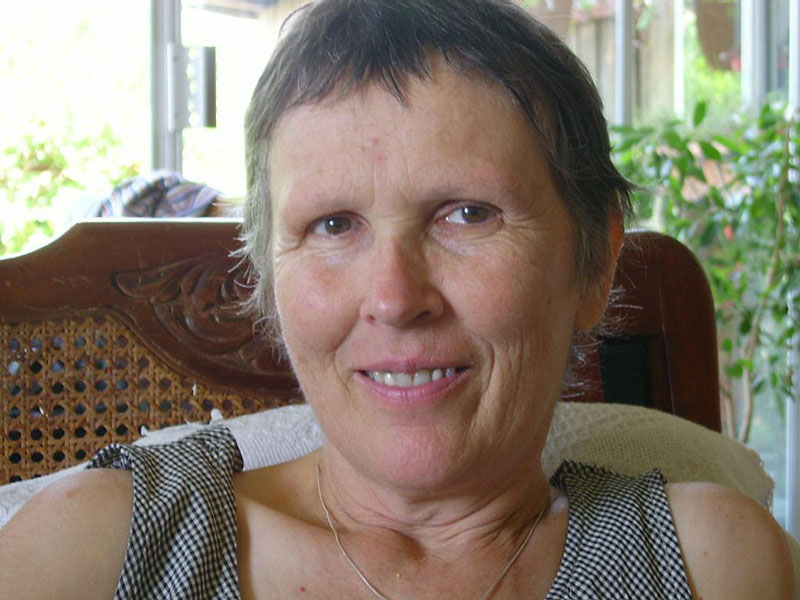 29 October 1949 – 11 May 2007
BEGINNING OF JOURNEY
November 2002  I waited till my son's HSC exams were finished before investigating a lump; had had many cysts. After an exhausting day at the Wesley Breast Clinic, I was told that I would need a mastectomy. Shock, horror – and I'd gone alone to the clinic. A week later I had a mastectomy. I'm OK with losing my breast, even had a farewell to breast night with my two girls and took some photos. I'm quite used to the prosthesis, except for when it fell out at Yoga!
Six months on a variety of chemos, a dose of Barmah Forest virus and shingles (from the lowered immune system) plus a frozen shoulder, 6 weeks of radiotherapy and then my Dad's death took a lot out of me. I went to a week long stay at the Petrea King Quest for Life centre which for me was the most healing part of 2003. I slowly recovered and returned gradually to work.
I decided it was time to start doing some of the things I wanted to do, having been a single mum for the previous 12 years and working full time. My 3 children were out of home by then and relatively independent. A trip overseas had always been part of my reward to myself, so I had 6 wonderful weeks in Europe, on my own like a backpacker, painting, hiking and staying with locals as part of the voluntary organization Servas.
DIAGNOSIS OF SECONDARIES
I found a lump on my mastectomy scar and started to get very tired so cut short my visit to 6weeks. I learned on my return that I had tumours in my liver and lungs and was started on Xolada – it was myself who suggested the oncologist test me for Her2, rather a shabby oversight on his part I thought, given that a rapid return of cancer is often an indicator. So I was put on Hercepton and Taxotere again , changed oncologists and was off work for another 7 months.
ABOUT ME
I have three children who are a delight to me – aged 28, 25 and 21 and live with my dog Mindy, but have a very supportive network of friends and family, enjoy my painting and job (social worker at the local Rehabilitation Ward in the hospital) and have been fitting in as many holidays and getaways as my finances will allow. My plan is to get back to rural France, or maybe Patagonia?
Besides painting and travelling, the other passion I've been able to indulge since my diagnosis has been reading – it's kept me sane, entertained, enlightened and eye strained through many a bleak period. Hundreds (literally) of books have flowed through my home. At times I still have to pinch myself to believe that I have cancer, but my regular bouts of exhaustion remind me. I've joined Dragons Abreast at Currumbin, this support group and the local one. I get down at times but also enjoy some things much more intensely at other times. It's sometimes like the calm between storms and though life is very different, it's mostly OK at the moment. Cancer is a life altering experience for me – in some ways it has been life enriching also.