In March this year Pia Hirsch did a presentation about the group at the Reach to Recovery conference which was held in Cape Town, South Africa.  It was titled Growing a Service: expanding connections in a group for women with metastatic breast cancer. She spoke about the history of the group and…..
"…..The story of how this evolved, and the value and richness of the connections that have been formed along the way, and how these connections have helped the women in the group, ……  Because I think it is a good story, and a good story is worth telling."
We were recently contacted by someone from the ABC, who connected us with Rebecca Levingston, the host of the Evening programme on 612, which is broadcast across the state.  She invited us onto her […]
When breast cancer is diagnosed the immediate focus, of course, concerns treatment, surgery, restoration, and future management. Supportive and Palliative Care however, may be useful at any stage of illness.
Palliative Care referral is often […]
Some of you may have heard that the group and our service features in a recent Encounter program on ABC RN entitled "The Power of Vulnerability" produced by Carmel Howard. Pia and 2 women […]
Memory Box
The Bribie Island woodwork group have once again donated another 8 boxes for the women in the group, as part of the Memory Box project.  These beautifully designed and crafted boxes have been made for us with willingness and generosity, and with a refusal of any reimbursement..
To find out more about the Memory Box Project please click here.
Radiation Therapy DVD
New DVD resource for partners and carers, "Walking Beside Her: A Partner's Journey with Secondary Breast Cancer" is now available. – click here to order
"Ask a Radiation Oncologist" is another new resource based on a Q&A session with Dr Robyn Cheuk, Senior Radiation Oncologist, Royal Brisbane and Women's Hospital.
To request a copy please click here

The Group
Click here to view more videos.

The Group
The DVD "You're Not Alone" is available free on request from The Cancer Council Helpline 131120.
It can also be obtained by sending an email to wps2@bigpond.net.au
Workshop March 2014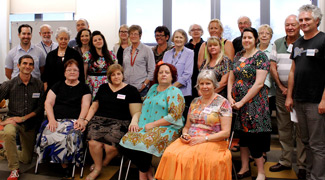 On Saturday 22 March 2014 saw Advanced Breast Cancer Group hold the regular Workshop for Women, Partners, Families and Friends. The workshop was a great success with many members and their family attending.
Click here for more information and to view photos.
Song for the Group
"Blue Skies" was composed especially for the group by local composer Bernard Houston as part of his 52 songs project. Bernard was inspired by the courage of women involved in the group..