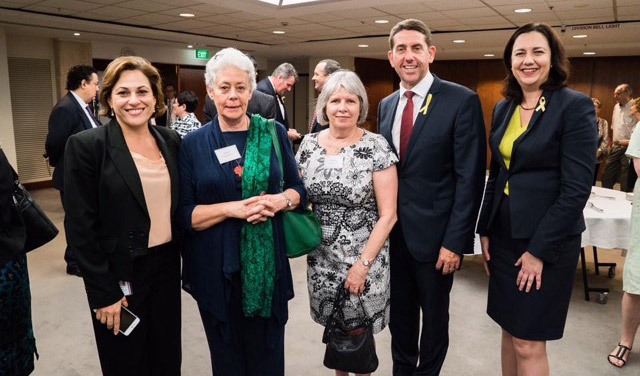 On Tuesday 13th October the Health Minister, Cameron Dick, made this announcement in Parliament:
"Community based health groups do an enormous amount of work helping others in the community. … They perform vital and highly specialised work to help in a number of areas. Some of those groups may be small, but the impact they have is great.The value of the outcomes they deliver to individuals and families is immeasurable. Today I am pleased to announce that the Palaszczuk government has restored funding to those groups. …. that funding will be provided over three years. That means certainty for three years for those organisations. Today those 20 organisations will be acknowledged at the highest level of government when the Premier and I host an afternoon tea to thank them for the work they do. One of the first things I did following our pledge in opposition was to examine funding for those groups. We have done that. We have restored funding. The long walk in the wilderness is over for those groups and they will be funded into the future."
The full text, which is worth reading, can be seen here. As one of the groups that has had its funding restored, the Advanced Breast Cancer Group  would like to express our relief and gratitude to the minister and the Palaszczuk government.
Welcome to the website for the Advanced Breast Cancer Group.  We are a Queensland- wide service specifically developed to support women with secondary breast cancer,and their partners and families.
This site is intended as a resource and a support for:
women with advanced breast cancer, and their partners and families already involved in the Groups offered by this service

women and families who would like to know more about these services

women and families who would like to benefit from sharing their experience of living with advanced breast cancer, and learning how others approach this challenge

friends of families affected by advanced breast cancer.
Donate Now
Support the Advanced Breast Cancer Group
If you would like to donate to the Advanced Breast Cancer Group please click here. Please note we are now a registered charity and any donations to the service are therefor tax deductible.
Donate Now
The Group
This is a statewide service for women throughout Queensland, delivered face to face and via the telephone.  It is a free service, specifically for those with secondary cancer. To join the group please click here
Health Professionals
The Group is a supportive/expressive group, modelled on the work of Dr David Spiegel (Stanford University)
The group is evaluated on an ongoing basis. We have consistently found that after 12 months attendance positive affect has increased, and negative affect has diminished. To refer to this group please contact us.
Resources
As well as this extensive website, we have produced 3 free DVD resources in collaboration with the women and their partners.
We are also partners in a nation-wide Internet forum, The Aussie Breast Cancer Forum.